What is the California Seat Belt Law?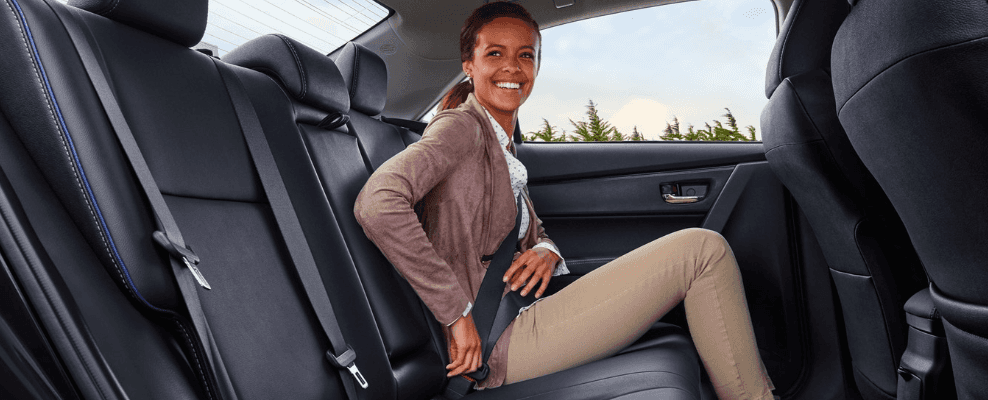 Yes, seat belts are required in California. Toyota vehicles are known for being safe and reliable, but accidents can happen at any moment – no matter who is at fault. The car seat belt can make a significant difference. If your passengers are secured properly with a car seat belt, a car seat, or a booster seat, the likelihood of a serious injury is decreased. This is why there are California car seat laws, as well as California child seat laws. Not sure what the car seat rules in California are? The Toyota of Downtown LA service department has all of the details, as well as important tips and tricks!
Seat Belt Laws and Requirements in California
Many Mission Hills drivers and passengers know about the California front seat law, which states that front-seat passengers are legally required to wear a seatbelt. Is a seatbelt in the back seat in California required? Previously, this wasn't part of the car seat requirements in CA, but now all passengers must be secured by a car seat belt, including passengers seated in the rear rows.
What about the California child seat laws? Passengers who are smaller – or under than age of 16 – are subject to additional restrictions and must be protected by a child passenger restraint system. Did you know that most accidents happen within a mile from the home? This is why the entire Toyota of Downtown LA team informs drivers and passengers to wear their seatbelt, even if you're just driving a small distance. Keep in mind, the California car seat law is the same, no matter how far you are driving.
California Child Car Seat Laws
Your vehicle's seat belts are designed with a 165-pound male in mind. If you have children in your vehicle, make sure they're properly secured with a rear-facing car seat or a booster seat. Here is what Cerritos and West Hollywood-area families should know if they are traveling with young passengers.
Children under two years of age are required to ride in a rear-facing car seat with a five-point harness in the rear row. Children who weigh more than 40 pounds, or who have a height of more than 40 inches, can "graduate" to the next level of safe seating.
Children under eight years of age must be secured by a car seat or a booster seat, and they must sit in the rear of the vehicle. A child older than eight years, or who has reached a height of at least 4'9″, is not subjected to this rule.
In general, it's best to keep your children in the most secure child safety seats for as long as possible. Don't rush to move children to the next level until you know they're ready.
Any child who "graduates" from the booster seat, or who reaches the age of 16, is subject to the same mandatory California Car Seat Belt Law described in the section above. At this point, a minor is subject to the same restrictions and recommendations that apply to adults.
Children under 2 years of age shall ride in a rear-facing car seat unless the child weighs 40 or more pounds OR is 40 or more inches tall. The child shall be secured in a manner that complies with the height and weight limits specified by the manufacturer of the car seat. (California Vehicle Code Section 27360.)
​Children under the age of 8 must be secured in a car seat or booster seat in the back seat.
Children who are 8 years of age OR have reached 4'9" in height may be secured by a booster seat, but at a minimum must be secured by a safety belt. (California Vehicle Code Section 27363.)
Passengers who are 16 years of age and over are subject to California's Mandatory Seat Belt law.
Learn More About California Seat Belt Laws With Toyota of Downtown LA!
The California car seat law in 2018 may not be the same. West Hollywood drivers must understand the California seat belt law as well as the California child seat laws to ensure everyone in their Toyota vehicle remains safe and secure. Learn more by exploring our favorite tips and tricks for navigating our city, or by taking a look at a few of our parallel parking tips. Have any questions? Don't hesitate to contact our friendly and knowledgeable team!
---
Check out Our LA Driving Tips and More:
Yes, seat belts are required in California. Toyota vehicles are known for being safe and reliable, but accidents can happen at any moment – no matter who is at fault. The car seat belt can make a significant difference. If your passengers are secured properly with a car seat belt, a car seat, or a…

Whether you drive a compact car like the Corolla or a big SUV like the 4Runner, city driving can be hard and stressful. At Toyota of Downtown LA, we get it. That's why we're here to offer drivers around West Hollywood and Alameda some helpful Los Angeles driving tips. One such tip is how to parallel park! Follow this…

Driving in Los Angeles can be stressful, even for locals. Whether you've lived in LA for years or are visiting from Mission Hills and Cerritos, there are a few freeway traffic dos and don'ts to keep in mind. Toyota of Downtown LA has outlined some of what we feel are the most important. Check out our lists below! Contact Us…