Driving in Los Angeles: Tips & Tricks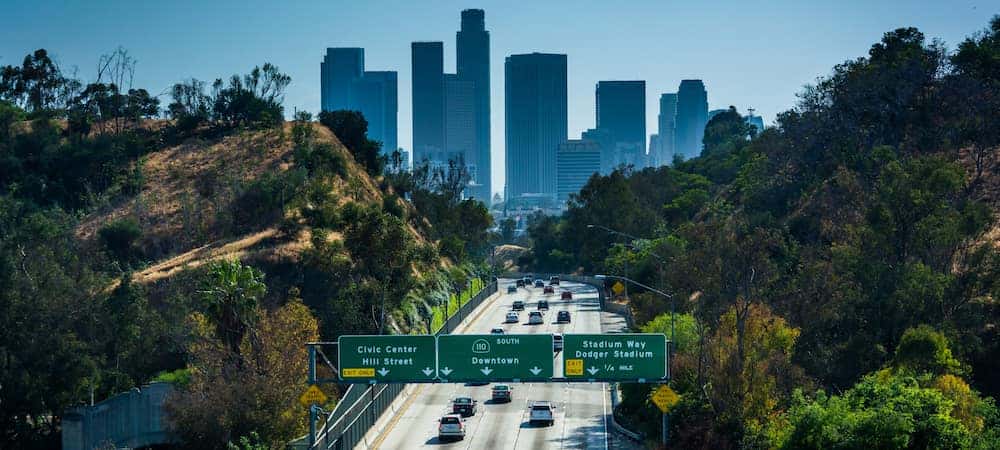 Driving in Los Angeles can be stressful, even for locals. Whether you've lived in LA for years or are visiting from Mission Hills and Cerritos, there are a few freeway traffic dos and don'ts to keep in mind. Toyota of Downtown LA has outlined some of what we feel are the most important. Check out our lists below!
Navigating Freeway Traffic: The Dos
The next time you're driving in LA, remember these tips:
Avoid gridlock hours: Obvious, but essential. If possible, avoid weekday rush hours: approximately 7:00 to 10:00 a.m. and 3:30 to 7:30 p.m.
Say "no" to the 405: Instead of languishing on the congested 405, take either Laurel Canyons or Coldwater to get over the Hill.
Use the carpool lane: The carpool lane is open all day — every day. Use it if you have a passenger/s. Note: Some carpool lanes double as toll lanes for solo drivers with a transponder; you may need one to use the carpool lane.
Leave early for big events: If you want to make it to the Dodgers game or a concert near West Hollywood, leave at least 45 minutes early.
Take La Cienega to the airport: If you're catching a flight, avoid the freeway altogether, especially during rush hour. Instead, take La Cienega; once you get past Rodeo, it's smooth sailing.
Navigating Freeway Traffic: The Don'ts
Don't want added stress, an accident, or a fine? Refrain from doing any of the following:
Texting and driving: California law forbids drivers from sending or reading texts on their cell phones while on the road. You can, however, use a hands-free device to place/receive calls.
Driving angry: Driving in LA or Downtown LA is an exercise in courtesy. If you're not in the right headspace to use traffic signals, yield to others, or obey speed limits and traffic lights — don't drive.
Littering: You can expect a fine of up to $1,000 if you're caught littering.
Driving in the center lane: If you're cruising on a three-lane surface street, don't drive in the center lane unless you're passing a car or planning to make a turn.
What's the Difference Between a Highway and a Freeway?
When you think "freeway," you likely think of a road that's free of tolls. That's not necessarily the case. Freeways can be entered or exited freely from different locations. For example, you can exit the I-10 in Los Angeles, Santa Monica, Culver City, or Monterey Park. The term "highway" is much broader; it describes any roadway that links two cities. A highway can also be a freeway, limited-access road, turnpike, or toll-road.
Learn More About Los Angeles from Toyota of Downtown LA Near Santa Monica!
Get more driving tips from Toyota of Downtown LA, located near West Hollywood and Huntington Park! Learn how to drive in Southern California's smog, how to parallel park, and even how to conserve fuel at highway speeds. If you have any questions about our inventory or lease specials, contact us today, and don't forget to always follow California seat belt laws when cruising our roads!
More from Toyota of Downtown LA
When you need exceptional towing power in Mission Hills, there are a lot of trucks that can offer the numbers, but only one that has the performance of the i-FORCE MAX powertrain at the root of its towing power, and that's the 2023 Toyota Tundra. What is the towing capacity of a Toyota Tundra equipped…

The Toyota Crown was sold in North America from 1955 to 1972 as a popular upscale model of the Japanese automaker. Welcome this model back, 50 years later, with our 2023 Toyota Crown preview from Toyota of Downtown LA, serving Los Angeles, Mission Hills, and Cerritos. View InventoryToyota Research Guides 2023 Toyota Crown Trim Levels The brand-new 2023…

The estimated fuel economy (mpg) of Toyota Tacoma trucks is unparalleled — especially when you cross-shop the Tacoma with larger trucks like the Nissan Titan and Chevy Silverado, among others. But what exactly is the Toyota Tacoma fuel economy, and how can you improve it with driving habits? Toyota of Downtown LA has the details. Toyota Tacoma Inventory…