How Much is a Car Replacement Battery?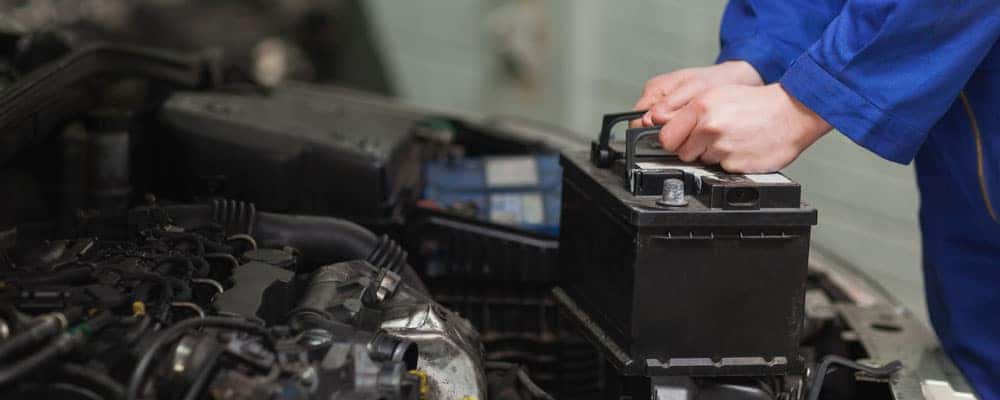 The price of a car replacement battery around Mission Hills generally ranges from $75 to $200. Here at Toyota of Downtown LA we carry an excellent selection of genuine Toyota batteries. These premium batteries are manufactured especially for your Toyota Corolla, Rav4, or other Toyota model, and come with an exclusive warranty. Learn more about the car replacement batteries available at our dealership near Cerritos.
The TrueStart™ Advantage
If you're searching for a replacement battery for your Toyota around West Hollywood, make sure you select a Toyota TrueStart™ battery. Specifically designed for your Toyota car, truck, or SUV, and packing the amps you'll need, a TrueStart™ battery provides the reliability and performance you can depend upon. Benefits of choosing a TrueStart™ battery include:
100% warranty coverage for up to 2 years
Warranty service available at over 1,200 locations
Faster recharge capability
Longer battery life
Patented lead alloy reduces corrosion
Heavy-duty positive and negative terminals optimize power flow
When to Replace Your Car Battery
How often you'll need to replace your car battery will depend on factors such as climate, location, and your personal driving habits. Some warning signs that may indicate it's time to get a new battery include:
Slow cranking or sluggish start
Low fluid levels in the battery
Fluid leaking from the battery
A swelling or bloated battery case
The "Check Battery" light comes on
The Experts at Toyota of Downtown LA Can Help You Take Care of All Your Toyota Service Needs
Batteries don't last forever, and more often than not, when your battery fails it's simply due to old age. The best thing you can do is to bring your car into the service center at Toyota of Downtown LA and let our certified technicians inspect your battery on a regular basis. We provide car battery replacement service along with the full range of maintenance services that are key to keeping your Toyota always running at peak performance levels. Schedule a service appointment with us and we'll be happy to test your battery, and if needed, install a replacement. Check out our service specials and parts specials to get great prices around West Hollywood. If you have any questions, please feel free to contact us online.
Related Service Posts from Toyota of Downtown LA
If you haven't serviced your Toyota RAV4 in some time, you may notice your model's maintenance light is on. If you see the maintenance light illuminated on the dashboard of your Toyota RAV4, you'll want to bring your vehicle to our service center. Learn how to reset the maintenance light on your RAV4 here at…

Yes — like many of your car's features, the air conditioning system uses gas. The air conditioner draws energy from the alternator, which is powered by the engine. Fuel is needed to power your Toyota car's engine. However, in some situations, using the AC can be more efficient than not using it. Read on to…

Timing belts are thin material that holds together and synchronize the camshaft and crankshaft rotations. Timing belts are also known as cambelts (timing chains for engines with larger bores and strokes) and play a crucial role in how internal combustion engines work. Timing belts ensure that both the camshaft and crankshaft are rotating in sync,…