What is a Timing Belt?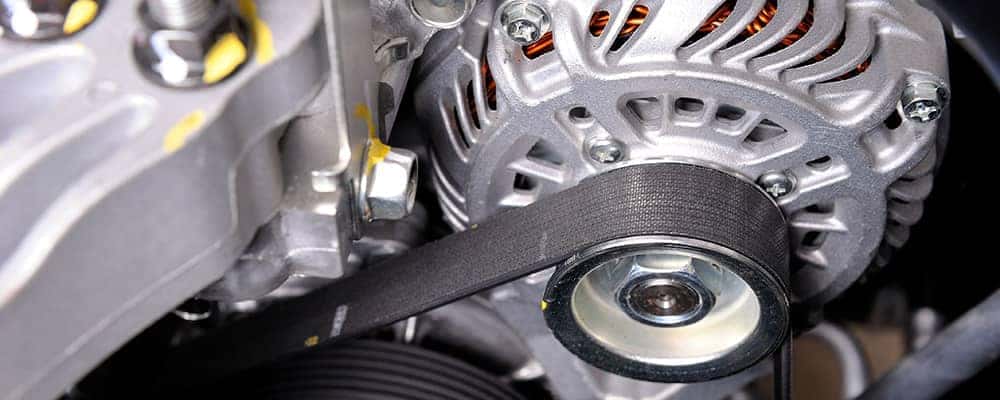 Timing belts are also known as cambelts (timing chains for engines with larger bores and strokes) and play a crucial role in how internal combustion engines work. Timing belts harmonize camshaft and crankshaft rotation; if both are in sync, the valves and pistons can operate properly. Valves control air/fuel mixture intake and exhaust gas and push the pistons down as fuel ignites in the combustion chamber. Whether you drive a new Toyota or another model, a healthy cambelt is a must.
How Much is a Timing Belt?
If a timing belt breaks, the valves won't open and close at the correct time. They'll hit the pistons and the car will need expensive repairs—up to $2,000+ if the valves, water pump, and pistons were damaged. If no damage has occurred, Mission Hills drivers can expect to pay around $500 to $1,000 with parts and labor costs. Most manufacturers recommend replacing the belt every 60,000 miles to 100,000 miles.
Signs Your Car Needs a New Timing Belt
Whether your car has a rubber belt or timing chain, it's easy to tell when there's a problem. If you notice any of the following red flags, schedule car repair at Toyota of Downtown LA's service center near Cerritos:
Ticking noise coming from the engine
The engine won't turn over
The engine acts up between 2000 – 4000 RPM
The engine misfires
More smoke and fumes than normal
Oil leaks from the front of the motor
Get More Car Maintenance Tips from Toyota of Downtown LA in Los Angeles!
Do you have more questions about replacing a timing belt, or what to do about a broken timing belt? Contact us at Toyota of Downtown LA! You're also welcome to visit us near West Hollywood and Huntington Park. For genuine Toyota parts at great prices, be sure to check out our latest parts specials!
More from Toyota of Downtown LA
Are you wondering and searching for information about Toyota Corolla fuel efficiency? The 2020 Toyota Corolla mpg is quite impressive and can reach up to 53 mpg city/52 mpg highway* with the Corolla Hybrid LE trim level. This fuel-efficient sedan offers strong efficiency numbers throughout its lineup. Find more 2020 Toyota Corolla EPA ratings today…

The 2019 Toyota RAV4 towing capacity is 1,500 pounds, which allows you to tow a small trailer or boat around the Mission Hills area. The advanced Adventure trim allows for up to 3,500 pounds of towing power. This SUV also has a payload capacity of up to 1,240 pounds. The 2018 Toyota RAV4 Hybrid has a…

If you're located near Cerritos or West Hollywood, you won't have to go far to learn more about the 2019 Toyota RAV4 colors. In fact, you'll have a wide variety of options to choose from right here at Toyota of Downtown LA! Our team has put together a helpful guide on the RAV4 color options, broken down according to…