What's the Warranty on a Toyota Battery?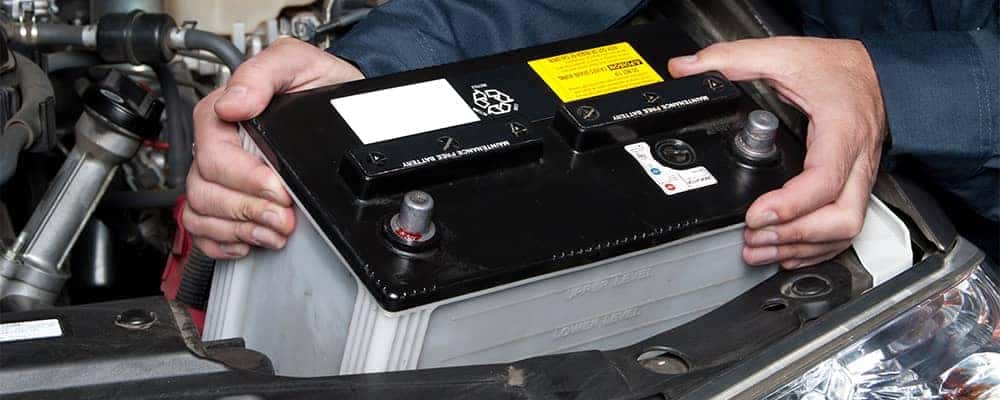 What's the warranty on a Toyota battery? It depends on which Toyota model you drive, of course! Learn about battery warranty coverage at Toyota of Downtown LA.
Toyota Battery Warranty
If you purchase a premium Toyota battery for your Corolla at an authorized Toyota dealership, then you'll receive 100 percent replacement coverage for up to 2 years, and 50 percent replacement coverage for up to 2-2.5 years. This coverage includes replacement for parts due to normal wear and tear, as well as defective parts. This coverage does not include:
Failure caused by use of incorrect electrolyte
Batteries that have been dropped, opened, frozen, cracked, or otherwise contaminated
Recharged batteries
Toyota Prius Battery Warranty
The battery on Toyota hybrid models, such as the Toyota Prius, is engineered for long-term performance. Thus, drivers around Cerritos will find impressive warranty coverage on their hybrid model. In the state of California, the warranty for a Toyota Prius is good for 10 years or 150,000 miles, whichever comes first. In other states, the hybrid battery warranty is good for 8 years or 100,000 miles. However, it is not at all uncommon for a Toyota Prius battery to last upwards of 200,000 miles. Of course, it depends on your hybrid driving habits.
Get a New Toyota Battery Around Cerritos at Toyota of Downtown LA!
If the battery on your Toyota Prius or other Toyota model isn't doing so great, it may be time to come out to our dealership in Los Angeles, CA! Here, we have a rotating selection of service specials from which to choose – so you might see discounted battery service list, or discounts on services like timing belt replacements. Contact us today to set up your service appointment, or to ask general battery questions. We're happy to help.
Related Posts from Toyota of Downtown LA
The Toyota Tundra has long been a favorite of Mission Hills drivers who need serious capabilities, but did you know that there's a Toyota Tundra Hybrid for 2022? It's true, the Toyota Tundra iForce Max powertrain takes the power you expect from the Tundra name and adds an eco-friendly twist. Get to know the Toyota Tundra…

The2022 Toyota RAV4 Prime is one of the most impressive compact SUVs you'll find driving around Mission Hills and Cerritos, sure. But why? This unique RAV4 model is so much more than just a RAV4 trim level or a RAV4 with a fancy superhero-like name. Instead, the Toyota RAV4 Prime is the definitive RAV4 plug-in-hybrid…

The Toyota Camry has been by far one of the nation's most popular midsize sedans, let alone most popular vehicles, bar none. The 2022 Toyota Camry is no exception to that rule. But what about the 2022 Toyota Camry Hybrid? If you're looking for the most fuel-efficient option in Los Angeles, you likely are interested…