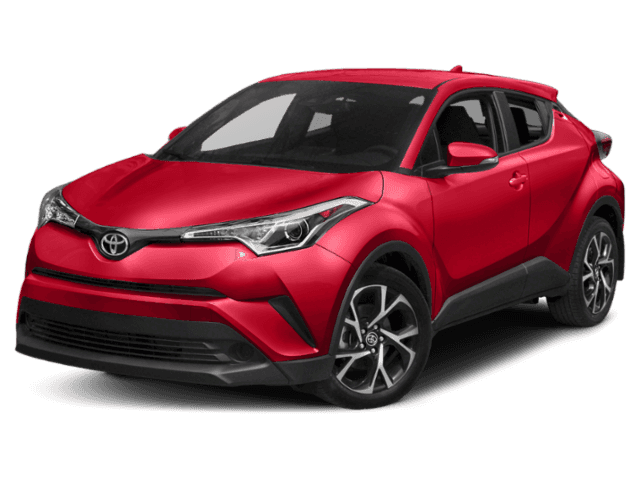 2019 Toyota C-HR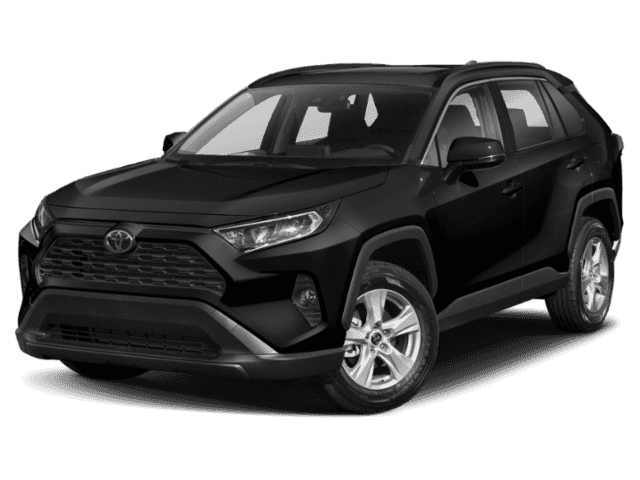 2019 Toyota RAV4
2019 Toyota C-HR vs. 2019 Toyota RAV4
Dynamic Radar Cruise Control
Leather-Wrapped Steering Wheel
Continuously Variable Transmission
All Toyota vehicles are built for adventure, and drivers comparing the 2019 Toyota C-HR and the 2019 Toyota RAV4 certainly have a tough choice ahead of them. However, although both of these vehicles offer great performance and standard Toyota Safety Sense™ driver-assistance features, each of these small Toyota SUVs is intended for a different sort of driver. Once you know what you're looking for, and what each vehicle has to offer, you shouldn't have any trouble making a decision. Compare the Toyota C-HR vs. Toyota RAV4 with Toyota of Downtown LA below!
---
---
Toyota C-HR vs. Toyota RAV4 Size
The Toyota C-HR offers sports car-like handling, but if your primary concerns are cargo space and interior volume, you'll find that the RAV4 goes a lot further to satisfy the needs of drivers in the Mission Hills area. Want to see exactly what we mean? Compare the Toyota RAV4 vs. C-HR dimensions, here:
Seating: Five passengers
Total Passenger Volume: 98.9 cubic feet
Cargo Volume (All Seats Upright): 37.6 cubic feet
Cargo Volume (Rear Seats Flat): 69.8 cubic feet
Seating: Five passengers
Total Passenger Volume: 83.8 cubic feet
Cargo Volume (All Seats Upright): 19 cubic feet
Cargo Volume (Rear Seats Flat): 36.4 cubic feet
As you can see, the RAV4 is simply better-equipped to comfortably transport both passengers and cargo. If you need a small Toyota SUV that's fit for the whole family, the C-HR probably shouldn't be your top choice.
---
Make the Right First Impression: RAV4 or C-HR?
Although it probably isn't the first thing you'll think of when you're searching for a new car, it's impossible to ignore the fact that different cars will make vastly different impressions on your friends, neighbors, and co-workers near Huntington Park! Consider the following differences between the C-HR and the RAV4 when you're deciding on the model that best reflects your lifestyle:
The C-HR design positions this vehicle somewhere in between most hatchbacks and coupes. The result: the C-HR has a sporty shape and energy that few competitors can match.
It's impossible to miss the diamond-like characteristics of the C-HR exterior, which give this compact SUV an angular intensity that's sorely lacking in rivals.
The RAV4 might be more conservative in its design, but if you're the type who appreciates subtlety, you might find it to be the more appropriate choice.
Sometimes, the ability to customize a vehicle can make all the difference when you're comparing options. The 2019 RAV4 is available in five configurations – plus several different budget-friendly hybrid trims – while the C-HR is available in just two.
---
Get Behind the Wheel at Toyota of Downtown LA near Mission Hills
Ready to take your next new vehicle for a test drive? Now that you've explored the Toyota RAV4 towing capability, compared the Toyota C-HR vs. Toyota RAV4, contact Toyota of Downtown LA to schedule your test drive in one of our new vehicles! No matter which vehicle you choose, we're sure you'll love how you feel on the roads of Alameda and Cerritos.
If you want to be even more certain of your decision, find out how the 2019 Toyota RAV4 wins out against the 2019 Honda CR-V. You might also want to check out the available Toyota RAV4 and C-HR colors.
---
Recent Toyota News from Your Lithia Dealership
When you need exceptional towing power in Mission Hills, there are a lot of trucks that can offer the numbers, but only one that has the performance of the i-FORCE MAX powertrain at the root of its towing power, and that's the 2023 Toyota Tundra. What is the towing capacity of a Toyota Tundra equipped…

The estimated fuel economy (mpg) of Toyota Tacoma trucks is unparalleled — especially when you cross-shop the Tacoma with larger trucks like the Nissan Titan and Chevy Silverado, among others. But what exactly is the Toyota Tacoma fuel economy, and how can you improve it with driving habits? Toyota of Downtown LA has the details. Toyota Tacoma Inventory…

The Toyota Tundra has long been a favorite of Mission Hills drivers who need serious capabilities, but did you know that there's a Toyota Tundra Hybrid for 2022? It's true, the Toyota Tundra iForce Max powertrain takes the power you expect from the Tundra name and adds an eco-friendly twist. Get to know the Toyota Tundra…