Toyota of Downtown L.A. is Here For You
The safety and the well-being of our guests and employees is the #1 priority at Toyota of Downtown LA.
Complimentary Transform© Disinfectant available upon request with any service.
We want you to feel confident when servicing with us; therefore, we would like to update you on our temporary action plan amid this time period.
Toyota of Downtown LA is now offering FREE vehicle pick-up and drop-off service within 8 miles of the dealership. 
We will pick up your vehicle, perform the necessary maintenance, and the return the vehicle upon completion.
All internal high touch point areas of the vehicle will wiped down with disinfectant before the vehicle is returned.
Payments can be easily facilitated through our online payment options.
Our Team is here and ready to assist with all of your needs.

To make arrangements and schedule your appointment, you may call
213-342-3644

and speak with a representative, or simply fill out the contact form below.
Should you decide to wait for your vehicle onsite, we have implemented cleaning practices and guidelines to help reduce the spread of germs and other health hazards as recommended by the CDC.  Repetitive cleaning of all frequently touched surfaces such as bathrooms, entrance and exit handles, seating, vending machines, and other high touch points have been implemented.
"Slow the Spread" Special
We are offering a Transform© Deodorizing and Sanitation Service on your vehicle for FREE to help Slow the Spread. While supplies last. Transform© destroys viruses, bacteria, mold, mildew & odors.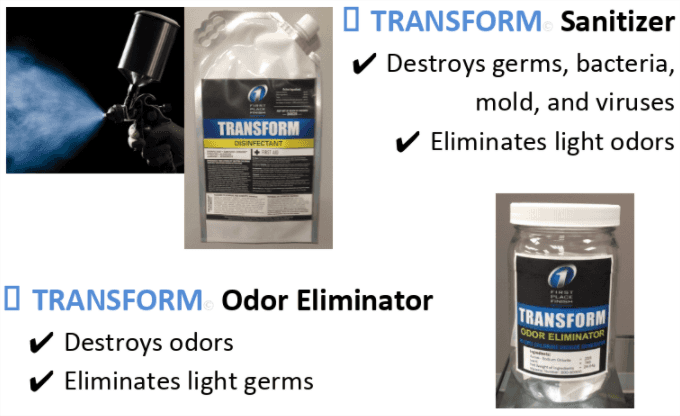 MORE ABOUT TRANSFORM©
Transform© is a system for sanitizing and deodorizing
Patented sophisticated antimicrobial technology
EPA registered and FDA approved
Ulta-pure chlorine dioxide (99.99%) no other comparable products on the market
Environmentally safe… applied to all interior surfaces of a vehicle in less than 5 minutes.
User friendly… just add water.